SB-1400 / 1200 / 1000 Rotary Two-Disc Rear Mower
---
The side-mounted mower SB 1200 is designed for mowing of high grasses and soft-stalky plants with height up to 500 mm. This implement is driven by a cardan shaft with its freewheel that couples the tractor driving mechanism with the mower. Its power transmission is based on V-belts of counter-rotating cutting drums with the mower  operating diameter of 600 mm. While mowing, the machine moves on its floating skids that provide, together with its low weight, perfect terrain following. For any obstacle hitting the mower is provided with overload protection comprising a brace and a locking spring. The mower is equipped with a rope mechanism for its additional vertical adjustment used also for setting the implement in its transport position. This side-mounted mower can be coupled with all types of small tractors equipped with the three-point hitch ISO 730/1N and a front PTO shaft. In case of compact tractors TK-12, TZ-4K-14 and MT8-132.2 it is necessary to couple the mower by means of the quick-coupler FDZ-187.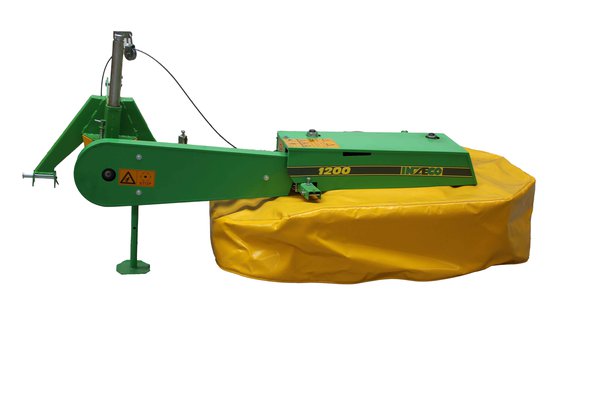 Are you interested?
Send us a non-binding request and we will get back to you.
If you have additional questions, contact us or come to our showroom in Prostějov.
Shop Šálek s.r.o.
Vrahovická 2527/5
796 01 Prostějov